PCLC has a diverse range of stakeholders, including peak bodies, government, legal assistance sector, community organisations, community partnerships and networks. We strive to build collaborative relationships with a range of community providers to increase understanding of community legal need and work towards a coordinated approach to service planning and delivery.
Community Relationships
Bayside Peninsula Integrated Family Violence Partnership
Cardinia Shire CALD Network
Casey/Cardinia Critical Linkages Family Violence Network
Casey North Services Network
Casey/Cardinia Homelessness Network
City of Casey Community Service Organisation Network
Collaborative Support Group -Federal Circuit Court, Dandenong
Connect Health & Community
Dandenong Rooming House Network
Family Life
Federal Circuit Court Duty Lawyer Meetings
Frankston & Mornington Peninsula, Health Justice Community of Practice
Frankston Charitable Fund Committee
Frankston City Strategic Homelessness Alliance
Frankston Homelessness Network
Frankston Emergency Relief Providers Network
Frankston Magistrates' Family Violence Court Users Meeting
Frankston Mornington Peninsula Family Violence Network
Greater Dandenong Youth Network
Inner South Rooming House Network
Kananook Community Trust
Living Free Steering Committee
Middle South Welfare Network
Mind Australia Ltd
Mornington Peninsula Elder Abuse Prevention Network
Mornington Peninsula Housing Network
Mornington Peninsula Combined Service Provider Network
Peninsula Health
Peninsula Health Crisis Hub Steering Committee
Port Phillip Homeless Network
Project Y Frankston CAD Outreach Committee
RAD-FMP Steering Committee
The Orange Door
Westall Community Hub Service Providers Network
VicPol Financial Elder Abuse Trial Steering Committee
COVID Response
PCLC joined government and a range of community organisations to develop strategies and action plans in response to the impact of COVID-19 on a local, regional and statewide level.
Casey Relief & Recovery Network
Glen Eira Community Group Committee
City of Frankston Emergency Relief Committee
Tenancy Coordination Group
DJCS Rental Dispute Operational Forum
Melbourne Metropolitan Rooming House Group
Legal Assistance Sector Relationships
Collaborating with other legal assistance providers is an important strategy in identifying and responding to legal needs within our community. We have been pleased to participate in the following initiatives this year.
Regional
South East Region Legal Assistance Network
Victoria Legal Aid (Peninsula & Dandenong Regional Offices)
Southern Metropolitan Partnership
Southern Metropolitan Social Isolation Project Steering Group
South East Region CLE & Community Development Network
Access to Justice/Jurisdictional Planning Working Group
Consumer Affairs Rental Disputes Operational Forum
Family Violence Working Group
FCLC Community Development and CLE Working Group
Infringements Working Group
Integrated Legal & Social Support Network
Management Committee of Federation of CLCs
Principal Lawyers' Network
Residential Tenancies Commissioner
Stakeholder Reference Group
Streamline Fines Project Committee
Tenancy Working Group
VCAT Residential Tenancies Users Group
VLA Child Support Stakeholders
VLA Communities of Practice – Family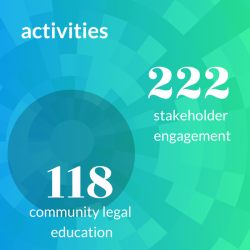 Coming together is a beginning, staying together is progress, and working together is success.

– Henry Ford