Under ordinary circumstances we offer evening sessions with our wonderful volunteers at our Frankston, Rosebud, Bentleigh and Cranbourne branches every week.
These services play in integral role in increasing the accessibility of our services.
Although we managed to keep most services running, during both periods of state 3 and stage 4, it was not possible to continue with our Volunteer Services. These have been suspended since March. We have been offering four evening phone appointments per week, but that certainly doesn't make up for the loss of our volunteer services.
As a result of COVID 19 we were unable to hold our annual Volunteers and Supporters Dinner. We did however, acknowledge the work of our dedicated volunteers and supporters through our recognition awards. Long service awards and excellence awards were given to the longest serving and most outstanding volunteers.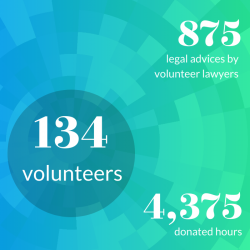 Most years we present an awards to a law firms, an organisation or a pro bono contributor that has supported PCLC in a significant way. This year the 'Law Firm Award' went to MDL Law. MDL Law have been a part of PCLC for more than 30 years, through their 'whole firm approach' they regularly attend at volunteer sessions, have undertaken roles on the Management Committee and offered other highly valued assistance along the way.
This years 'Pro-Bono Award' went to Daphne Foong of Counsel. Daphne has worked with us on some of our most complex matters. She frequently goes above and beyond either for free or as part of legally aided assistance.
Each year a special award is given to one volunteer who has made an exceptional contribution to the Centre through their demonstrated understanding of the Centre's values, their commitment to the principals of social justice, and a reliable and respectful approach to our clients.
This year's recipient, Villy Raki, has been volunteering with the Centre since 2012. He undertook a short period of supervised legal practice in 2013/ 2014 and then went on to work in a private firm before starting his own practice. Villy is a delight to work with and is always willing to assist or support the Centre in any way he can.
VOLUNTEER AWARD RECIPIENTS 2020
KATH NEILSEN AWARD
Villy Raki
VOLUNTEER EXCELLENCE AWARDS
Taylor Makskew
Varsha Nayak
Vinu Kumar
George Chabvonga
Georgia Arranga
Despina Djumas  
PRO BONO AWARD
Daphne Foong  
LAW FIRM AWARD
MDL Law
LONG SERVICE AWARDS
George Erlichster (20 years)
Helen Betros (10 years)
Katherine Awad (10  years)